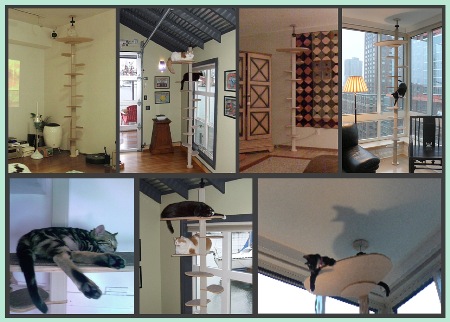 Photo credits: Otsuka -Osaka Japan, Erika - Portland OR, Rita - Minneapolis MN, Lisa - NYC NY, Thad - Chicago IL

Accolades:

It looks great and fits in with my modern décor and adds to the room instead of taking away from it like one of those hideous carpet covered monstrosities. Thanks again for making such a great product! - Petra S.

My cats absolutely love the Catvantage, and my sister's cat loves hers as well. I am so impressed by its elegant design and structural integrity. - Jackie H.

CatVantage actually looks good in my living room and the cat likes it too. I'm also impressed with the quality, workmanship, and clever design. - Rita S.

Sponge wasted no time reviewing it. He gave it two paws up. - Rod K.

"These (CatVantage's) are so wonderful.!!! our little ones love it already! Thanks for such a great product" Kati S.